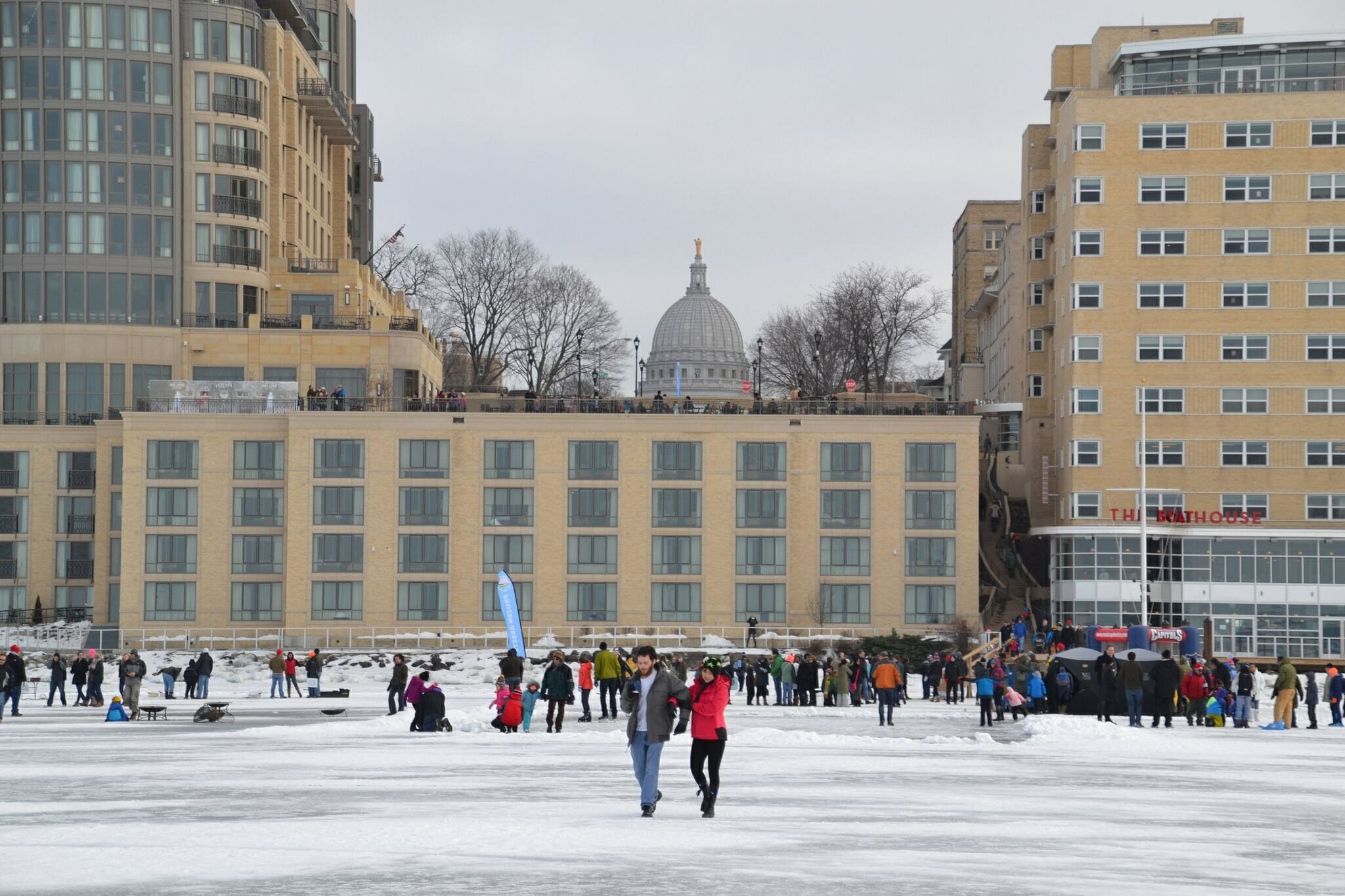 Fourth Annual Frozen Assets Winter Festival Invites You To Chill Out at The Edgewater on Lake Mendota
Presented by Lands' End Outfitters and produced by Clean Lakes Alliance, the weekend debuts first-ever "5K on Ice" and many free activities including a speed-skating demonstration by U.S. Olympian Casey FitzRandolph
From ice skating and sleigh rides to pond hockey and ice science labs, the fourth annual Frozen Assets Festival, organized by Clean Lakes Alliance, offers a winter wonderland of activities using beautiful Lake Mendota as its front yard.
The family-friendly weekend festival is free and open to the public, held indoors and outdoors at The Edgewater, Madison's lakefront urban resort, Friday, February 2 – Sunday, February 4.
Highlights of the weekend include a popular nighttime 4.25 or 12.75 mile Fat Tire Bike Race on the frozen lake on Friday, February 2 at 6:30 p.m., and the first-ever Frozen Assets 5K, a run/walk also held on the ice on Saturday, February 3 at 10 a.m. Participants can register in advance or the day of the events at The Edgewater. Fees from both races benefit Clean Lakes Alliance. A "Mendota Vice" fundraising party will take place on Saturday evening at The Edgewater and features a retro, Miami Vice theme.
In addition, the very popular Kites on Mendota, featuring large "show kites" will tower over the ice both on Saturday and Sunday. U.S. Olympic Speed Skater Casey FitzRandolph and the Figure Skating Club of Madison will feature skating demonstrations on The Edgewater Ice Rink, as guests enjoy complimentary hot chocolate and s'mores.
"When Madison's lakes freeze, they become our city's largest parks," said Clean Lakes Alliance executive director, James Tye. "By drawing attention to our lakes year round, Madison residents and visitors will continue to push for clean and healthy waters."
This is the fourth year The Edgewater is the venue host for Frozen Assets, a marquee event for Madison, that has been developed by Clean Lakes Alliance in conjunction with its partners and its sponsors. Estimated to draw more than 6,000 attendees, the weekend's activities and profits support the non-profit which has raised more than $750,000 to support Madison's lakes.
"Frozen Assets is a great way for members of the Madison community and surrounding areas to learn about the wonderful assets of our lakes, even in the midst of winter," said Amy Supple, Senior Vice President and Chief Operating Officer of The Edgewater. "Opening the waterfront to the public is a top priority for The Edgewater, and watching guests and local residents take part in activities like kite flying and fat tire bike races is extremely rewarding."
For those who wish to make a weekend of it, The Edgewater's Frozen Assets package includes overnight accommodations; milk and cookies and a $50 daily resort credit for dining. Rates start at $249 per room per night. Those who attend the Frozen Assets "Mendota Vice"-themed fundraiser can take advantage of a special Mendota Vice package featuring a "make your own" Cuba Libre welcome amenity and a late 2 p.m. checkout. An additional night will be offered at a $159 rate.
For more information or to book an overnight package, call 1-608-535-8200 or book online. For more information on Frozen Assets, visit www.cleanlakesalliance.org.