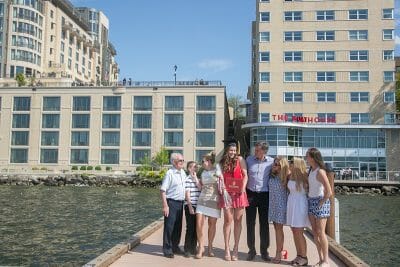 UW Graduation Weekend 2023
Begins on May 11, 10:00 am
Ends on May 14, 10:00 pm
University of Wisconsin Graduation Weekend 2023
Welcome to The Edgewater! We are thrilled to have you and your families stay with us over the 2023 Commencement weekend. Below is information on our property operations over these special dates.
We invite you to make the most of our lakeside location and enjoy the tent on the Grand Plaza, which is reserved for hotel guest use on a first come, first serve basis. We'll feature cocktails and a Bubbly Bar to toast your graduate Friday (12-7pm) and Saturday (11am-7pm). Grab your grad and watch the sunset over Picnic Point…perhaps the most perfect view in Madison!
THE BOATHOUSE // This popular lakeside restaurant will be open to guests on a first-come, first-served basis.
THE STATEHOUSE // The Statehouse is fully committed for reservations at this time and a waitlist has been started. If you are a guest of the hotel, would like to be added to the waitlist, or have questions, please call 608.535.8230.
THE MARKET // Located on the 7th floor, this outlet is open daily at 7am for to-go coffee, breakfast items including hot breakfast sandwiches (served until 11am), oatmeal, bagels and muffins, and other grab-and-go snacks including cheese, beer and wine.
THE SPA // The Edgewater Spa is open for your enjoyment with limited appointments remaining. Please book online or call 608.535.8240 for an appointment.
COMMENCEMENT CEREMONY LIVE BROADCAST // STAY TUNED FOR UPDATES
AIRPORT SHUTTLE // The Edgewater is offering complimentary shuttle service to and from the MSN Airport on a continuous loop every 30-45 minutes from 10AM – 5PM on Thursday, Friday & Sunday. The shuttle will pull up at the airport in the shuttle parking area across from baggage claim. If a shuttle is not there when you are ready, wait for a few minutes and another will be there shortly!
TRANSPORTATION TO / FROM COMMENCEMENT // For commencement, we will have a bus transporting hotel guests from the hotel to Camp Randall on Saturday, May 13, from 10am to 4pm. The bus will leave/arrive approximately every 30 minutes. Please note, one bus is equipped for wheelchair access. Reservations are not required. Transportation will be first come, first served and is free for hotel guests.
GENERAL TRANSPORTATION // Our house cars for shuttle services daily from 7am – 10pm can accommodate pick-ups and drop-offs within a 2-mile radius of the hotel. Shuttles may be booked by contacting the guest service (valet) stand between the hours of 7AM – 10PM at 608.535.8200.
GRADUATION GIFTS // Stop by The Market on level 7 for a variety of collegiate-themed gifts for your grad, including housewares, hats and apparel.
PRIVATE EVENTS // The majority of our private event spaces throughout the property are fully committed May 12-14. If you have questions, please contact sales@theedgewater.com. You may also fill out the form here if you wish to be added to our waitlist.